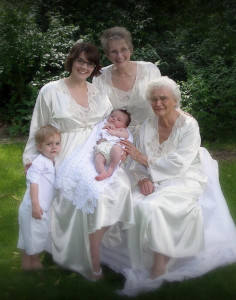 Though men and women do share many similar health concerns, women do face their own health concerns that need special attention. The American College of Obstetricians and Gynecologists devotes a section of their Web site to Women's Issues.
Endocrine System
PMS Symptoms
Ovarian Cysts
Uterine Fibroids
Vaginitis
HPV
Menopause
Vitamins and Mineral Deficiencies
Breast Cancer
---
Endocrine System
The endocrine system, which regulates our hormones, is responsible for much more than we might perceive. Though the endocrine system inherently strive to retain a state called "homeostasis" (balance within the body systems), an endocrine imbalance can cause insomnia, weight gain, headaches, depression, anxiety, brain fog, profound fatigue, digestive distress, aches and pains, and other symptoms. If you are feeling any of these symptoms and can't seem to find an outside cause (i.e. stress), you might consider hormonal testing.
Estrogen Dominance 101:
---
PMS Symptoms
---
Ovarian Cysts
---
Uterine Fibroids
---
Vaginitis
---
HPV
---
Menopause
Peri-Menopause by Doni Wilson
Sleep Disruption by Doni Wilson
Neurotransmitters and Sleep by Doni Wilson
Post Menopausal menstrual cramp
Post Menopausal bleeding western medicine protocol: If your ultra sound shows endometrial lining is under 4mm, no endometrial biopsy is necessary. If your number is between 4 mm and 9 mm, your doctor will suggest you to get endometrial  biopsy. If the lining is thicker than 9 mm, you have to get endometrial biopsy done. This is short but not the walk in the park
Often you were told to get this procedure done on the day of your visit so that you may be wise to get prepared. Take advil 800 mg 30 minutes before the procedure.
Acupressure onSP6 while you are waiting for your doctor to come and push LI4 when you are on the table. Having an ice pack on your forehead help you from your blood pressure to
go down (feeling of fainting). If you have never had a labor, chances are, your cervix is tight and narrow for the device to get in. Be patient and practice deep and slow breathing !!!
Soy Isoflavonesexert modest hormonal effects in pre-menopausal women
Unusual menopausal signs and symptoms – check the following sites before calling your doctor:      
---
Vitamin and Mineral Deficiencies
Two of the most common deficiencies in women are Vitamin B and Magnesium, two important factors in blood and heart health, among other benefits
Vitamin B is important for a healthy nervous system, as well as keeping your blood healthy by promoting new red blood cell growth, and lack of it can cause anemia. Vitamin B12 cannot be produce by the body, so you must eat the right foods, and consider taking a good supplement.
Research show that the majority of woman are deficient in Magnesium. This mineral, which may have anti-imflammatroy properties, has been shown to improve PMS symtoms, as well as insomnia symptoms particularly when used at night. Though supplements are helpful, it is always advised to try to get your magnesium in the food you eat.
---
Breast Cancer
Thermography – is the better form of testing than going to get mammogram. Here's a few information!