I have a variety of Functional Medicine Testing (urine, saliva, stool and hair sample) available at the clinic.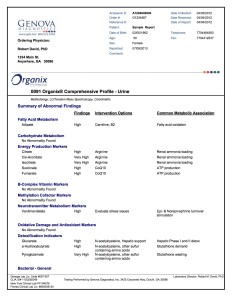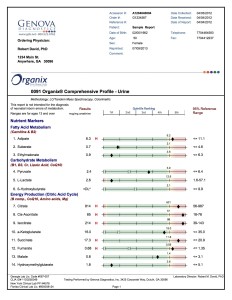 Organic Acid Testing:
The Organix Acid Test #0091 "Organix Comprehensive Profile -Urine Test" by Genova Diagnostics (former Metametrix) is one of the most comprehensive tests to show how your macronutrient (fat, carbohydrate, protein) pathways are working, which micronutrient (minerals and vitamins)  are deficient or excess, your body is making energy (citric cycle) or not, how your body is metabolizing the nutrient or not, how your neurotransmitter (chemical passenger like serotonin, dopamine, GABA in the brain and gut) is working, how your liver is detoxifying toxins or not, and yeast, fungus and bacterial overgrowth and more.
Neurotransmitter Testing:
The neurotransmitter is the basic unit of communication in the nervous system is the nerve cell (neuron). Each nerve cell consists of the cell body, a major branching fiber (axon) and numerous smaller branching fibers (dendrites). Nerve cells use chemicals called neurotransmitters to communicate with adjacent nerve cells across gaps at contact points called synapses. Nerve cells release neurotransmitters into the synapses, and these neurotransmitters are received by receptors on other nerve cells. Please look at this chart.
Neurotransmitter Testing is now available to detect imbalances among your major brain chemicals (dopamine, serotonin, GABA, glutamate, epinephrine, norepinephrine, and others)! Basing treatment on symptoms alone (traditional medicine) will not provide us with the information we need to address the underlying neurotransmitter imbalances causing your symptoms. A visit to a doctor or practitioner's office for depression involves telling them how you have been feeling emotionally. The typical depressed person leaves the office with a prescription for an antidepressant without ever having any conclusive laboratory evidence of what is causing their symptoms. Genova's Organic Acid Test covers neurotransmitter testing.
Adrenal Stress Panel Test:
Hormone Test: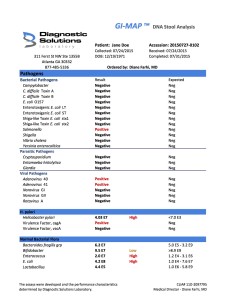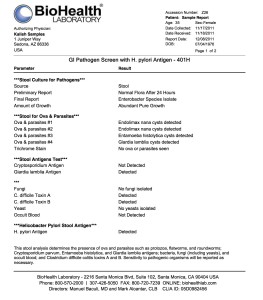 GI Test:
Food Sensitivity Test: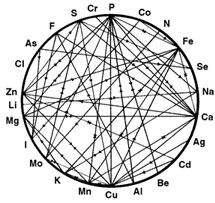 Hair Analysis Test (w/Heavy Metals):
Heavy metals toxicity caused by increasing levels of pollution and use of chemicals in the industry is a growing threat to our health and development of our children. High levels of toxic metals deposited in body tissues and subsequently in the brain, may cause significant developmental and neurological damage.
A Metals Hair Test is ideal for checking current exposure to toxic metals. Hair provides important information that can assist the practitioner with an early diagnosis of physiological disorders associated with aberrations in essential and toxic element metabolism. For more information about each mineral and heavy metals, please visit -> Mercury, Aluminum, Chromium, Magnesium, Selenium. This is another test required the trained practitioners to get correctly interpreted the test result.
---
These are great labs and testing but not available in my clinic:
---